Advance Readers Edition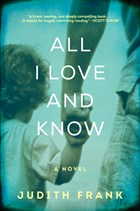 This insightful family novel deserves a wide readership and will instantly appeal to fans of Michael Cunningham and Stephen McCauley. And the deft handling of the social issues and emotional territory will resonate with fans of writers like Wally Lamb and Sue Miller.
The central characters, Matthew and Daniel are a settled couple in Northampton, MA when Daniel's brother and his wife are killed in a terrorist attack in Israel. The men discover that the deceased parents wish was for Matthew and Daniel to raise their children. While that's complication enough to fuel a plot, cultural politics further complicate the story—the homophobia of the Israeli courts, Daniel's expression of sympathy for the Palestinians and his fragile relationship with his own family.
I was happy to see several starred advance reviews. Hopefully this lovely novel has many more coming.
"This beautiful novel is old-fashioned in its approach, taking its sweet time…
View original post 342 more words